It's never too early to think about planting.
The short video below shares important tips you should be thinking about now so you're ready for 2015.



This video is a free preview from the popular Corn College TV DVD Series. Enter your information below and you'll receive a $10 savings coupon off any disc in the 4-DVD set!
Get your $10 savings coupon here!

The DVD series preferred by serious corn growers.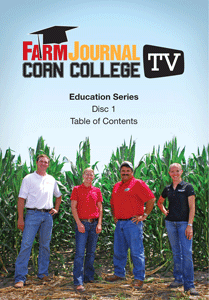 Disc 1 Includes:
Planters

Planting

Water Mgmt

Varieties
Other topics include:
Harvest, Fertility, Variable Rate Technology, Soils, Pests, Tillage and many more corn production tips and strategies.
Learn more.